To manage user accounts, use the 'Settings' menu and then click 'Users'.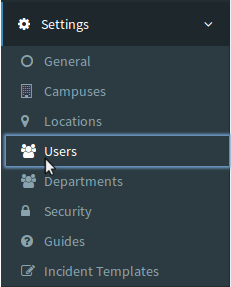 As an administrator you have the ability to manage and create new users from this menu. In most cases you will direct your staff to https://yourorganisation.riskez.com to create an account but you can do so manually with the 'Create New User' button.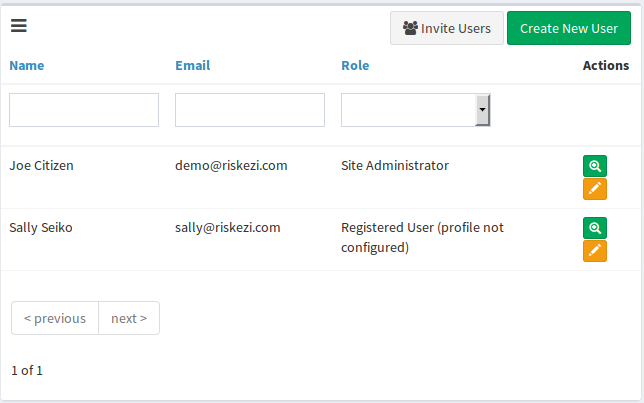 You can view, edit or delete any account (except your own) from this menu. 
| | |
| --- | --- |
| | Add a single RiskEZI user and set a password for user account. |
| | RiskEZI user account invitations are for sending an activation link to the users email address. Use this button for sending a single invite or multiple invitations. |
| | Use this button to view a single RiskEZI users profile including past events for the user. |
| | Use this button to edit the users profile such as users Access Rights and Departments. |
Definition of User Access Rights (User Roles)
Under the 'Role' column, accounts can have several titles.
| | |
| --- | --- |
| New User: |  Any account that has gone through the account creation and activation process and an administrator has approved will have the 'New User' role. This role title remains until they have logged in to RizkEZI and set up their account. This role is the same as and will become 'User'. |
| User: |  Any account that is fully functioning will have the role set as 'User'. This is the default RiskEZI role. |
| Administrator: |  Your account and any other's you have given administrative rights to will have the 'Administrator' role. This role should only be set for key personnel who oversee the RiskEZI system. |
| Waiting for Email Confirmation: |  The user is pending registration and is required to confirm their email address by using the confirmation link that was sent to their email.  (This account is not yet active) |
| Requires Admin Approval: |  The user is pending approval from an Administrator.  This is most likely due to the users email address not belonging to an associated domain.  An administrator can approve the user by the activation email or by changing the role to 'New User'. (This account is not active) |
| Denied: |  This is the status if an Administrator has denied the request for registration by using the 'Denied' link in the activation request email.  Set the 'Denied' role to deny this user access to RiskEZI. |
| Archived: |  Users that are 'Archived' will no longer be visible to RiskEZI members.  |