As an administrator you can group RiskEZI users into defined policies that include Commitees, Managers, Moderators, Board Members etc..
Navigate to your side bar and click 'Settings', then click 'Security' to access the group policies.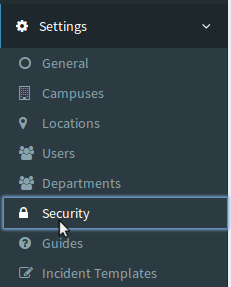 In the security section you can assign board members, your risk management committee, an event moderator(s) and incident moderator(s). There are two levels of security: Group wide and Campus wide. Group wide will only exist if you have multiple campuses and allows oversight to all of your campuses.
If you would like to edit the members of each group, press the 

 button and add a new member by typing their name or remove a member by pressing the 'x'.